About Warren Engineering
QUALITY AND RELIABILITY IN THE MANUFACTURE OF PRODUCTS
Warren Engineering was founded by my father Mike Warren in the 1970's and it is now owned and managed by me, Steve Warren. I joined the company in 1981 from a career in the aircraft industry.
Our reputation is for quality, reliability and competitiveness not only Nationally in the U.K. but also Internationally with those we supply in Countries such as France, Ireland, Germany and the U.S A.
I believe that the customer base has been built on our reputation and the friendly professional service we provide. Our ability to meet tight delivery times for our Clients when they have the occasional hiccup in their supply chain has also held us in high regard.
Commercial and Private Clients:
Our Commercial and Private Clients are all important to us. Our Commercial Clients come from many sectors, such as Agricultural, Automotive, Biopharmaceutical, Catering, Leisure, Life Science, Marine and Medical Industries. We enjoy supporting all our Clients to help them achieve their goals, whether it is for a large number of components or a one off bespoke design or repair. We pride ourselves on producing high quality finished products to meet our Clients requirements and meet the agreed delivery date on time. We aim to continually improve so as to offer the best quality and shortest delivery time possible. The strength, durability and high quality finish of products is as important to us and those we work with today, as it was 40 years ago.
Our Mission:
To manufacture products, mainly in stainless steel, for a broad spectrum of Industries requiring quality, reliability, strength and corrosion resistance in acid and alkaline environments. Warren Engineering works in partnership with its Clients, aiming to be innovative and supportive to meet the needs, standards and the delivery targets required.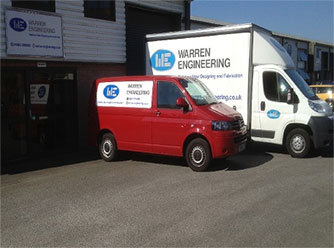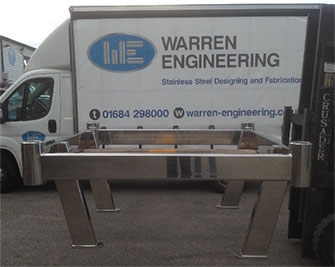 Our Vision is to be our Clients preferred supplier by providing solutions and minimising expense and time whilst providing quality and reliability in the manufacture of the products.